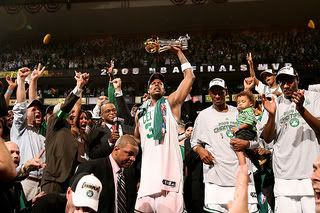 (Photo by Nathaniel S. Butler, © Getty Images)
Well done, fellas.
Last night, the Celtics slaughtered the Los Angeles Lakers, 131-92, in Game 6 to win their 17th NBA Championship title. We didn't just win the game, the series, the NBA Finals and the championship against the Lakers, we obliterated and humiliated them. We blew them out of the TD Banknorth Garden building.
Some might say that the Celtics were bullying the Lakers when a win already seemed like a fait accompli, especially with Ray Allen hitting trifecta after trifecta. Boston won by a 39
point margin, and were up by as much as 43 points during the 4th quarter.
Hey, that's what you do, not only to your competition when you're in the Finals, but especially your most famous and hated rival. You pound them into the ground and then steamroll right over them. And what Celtics fan wouldn't want that done to the Lakers?
I certainly did.
If only the Patriots hadn't tanked it in the SuperBowl, this would have been one incredible year for Boston sports, if you include last autumn's Red Sox World Series win. I don't know, maybe it was karma; maybe the Pats had to lose in order for the Celtics to win. If so, I'll accept that. Unlike the Patriots, the Celts hadn't won in 22 years and the Lakers were beginning to narrow the gap between their number of championships versus ours. 17-14 us is a lot better than 16-15! We have a bit more breathing room now.
I take great comfort in our 17th Championship win, that it came against L.A., and that—in Paul Pierce, Kevin Garnett and Ray Allen—the Celtics have as good a "big three" as has ever existed in the game of basketball, which bodes well for our near future.
Rest easy till November, boys. You've made us—the city and the fans—very happy and very proud.
(Photo by Joe Murphy, © Getty Images)