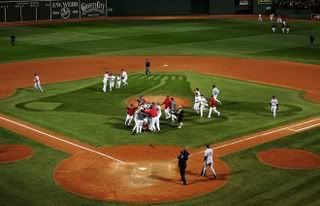 So this is what it's like to root for a winning baseball team with a confident, angst-free fan base? Even after the exhiliration that was 2004, I'm still getting used to it.
It's amazing how often the Red Sox find themselves crawling out of holes. Oops. Did I say "crawling?" I meant blasting. After the Indians had us down three games to one, we finally recovered and slaughtered them by a combined, three-game score of 30-5. As sports columnist
Dan Wetzel writes
, "Now [the Sox] are the team with so much talent and tenacity that if you get them down you need to drive a stake through their heart. If not, they'll come back and break yours."
I also love Wetzel's observation that:
"The Red Sox, the team that forever used to dig their own grave, now just dances on their opponents' ...




Whatever you once knew about the Red Sox is gone. This is no cuddly underdog, no loveable loser trying to change history.




This is Goliath."
Amazing, isn't it? After decades of heartbreaking defeats and constant team-manager shake-ups, the Red Sox get to swagger into the World Series, while the Yankees find themselves in disarray and despondently searching for answers. Oh, how the tables have turned!
I wouldn't say that we've become like the Yankees just yet. After all, in 2005, we got bounced out in the first round and in 2006, the Yankees themselves delivered a late-season, 1978-style Boston Massacre II, killing our chances of making the playoffs.
But I'm loving this year. This is even more justice for all the fans of the past who suffered. Bring on Colorado and let's start this World Series! Boston has another trophy to win!