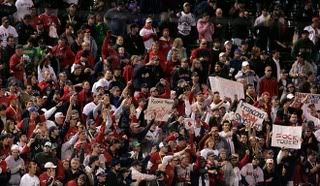 This is what it's all about. This, dear reader, is why some people are avid sports fans. Whatever your favorite sport is, you follow it passionately in the hope that your team will make it all the way. In a way, their victory is your victory too, because you invested so much personal emotion into your team's affairs. You are part of another nation.
In my case, I am a member of Red Sox Nation. I started following the Sox, and baseball, in July 1988, during the summer of "Morgan Magic." I saw the Sox through various shades of good and bad since that summer. I was also aware of 1918, the last time we as a team were truly the best. The Sox never seemed to reach a certain plateau, that is, a spot in the World Series. And, if they did, they were doomed to fail. After the Yankees defeated us after 11 innings in Game 7 of the 2003 ALCS, I was so upset and despondent that my father had to call me and say, "Look, son, you know what being a Red Sox fan entails. Get used to the heartbreak. There's going to be a lot more of it to come."
Oh Dad, how wrong you were. The next year, when it seemed like we would be the Yankees' doormats once more, we responded. Won four straight. Then, won four more straight. Hello 2004, goodbye 1918!
Three seasons later, and just two nights ago, a Red Sox team that was probably even better than the 2004 squad—if that's even possible—brought the trophy back to Boston. Two World Series victories in four years. To don Red Sox clothing is to wear the colors of a winner, of a team that scares the pants off everyone else in the league.
For 16 years, I wore my Red Sox cap as a mark of my die-hard status. A person wearing Red Sox colors seemed to say, "I'm one angry, frustrated, inferiority-complex ridden motha, and I'm proud of it!" No more of that.
But you know what? I miss it. The Red Sox are winners, the Yankees are in disarray—the tables have turned in a way no-one would have dared to predict—but I always thought the Red Sox were the perfect team for me to follow. They gave me something to be angry about. It was like a yoke around my neck and shoulders that I grew accustomed to, a burden I actually began to carry with more than a measure of perverse pride, and once it was removed, I felt naked. I don't feel complete anymore without that chip on my shoulder.
Now I cannot believe what has transpired. Like the Jeffersons, the Red Sox have moved on up. And even when Boston becomes a dull team again, as has got to happen someday, no-one will talk of the Red Sox as loveable losers, of a team that is cursed. Those days are history.
But three years ago, and again Sunday night, I felt part of a victory that no-one can ever take away from us. We won it with hard work and faith. Both events were things of pure beauty to behold.
I am a Red Sox fan. That statement no longer means what it used to—and I'm grateful for it.